Aims and Scope
I Kadek B.A. Candra, Ferdi Yanto, I Wayan Suranadi, Ni Nengah D. Fatmawati
---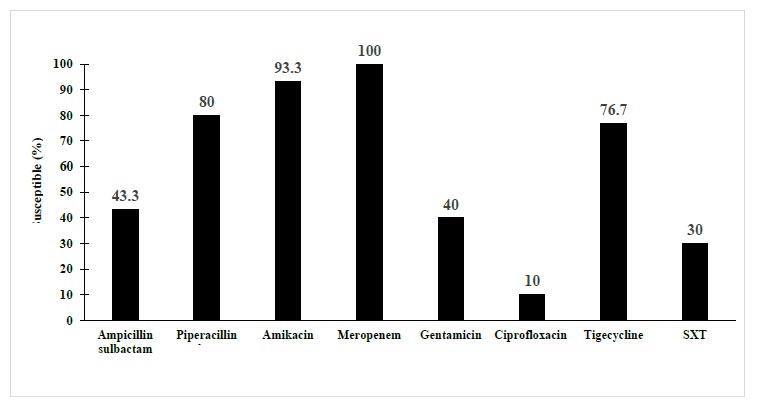 Background:
The increasing Extended-Spectrum β-Lactamases-producing Enterobacteriaceae (ESBL-PE) infections in the Intensive Care Unit (ICU) needs an early warning system for the detection of these bacteria. The ESBL-PE fecal carriage analysis is a screening method that can be used to detect and characterize these bacteria. Furthermore, it aids in assessing an ICU patient's risk of possible infection and prevent its transmission to the other patients within the period of hospitalization; therefore, enhancing the quality of patient care while alsoreducing morbidity and mortality due to ESBL-PE infection in ICU.
Objective:
The study aimed to determine the antibiogram and molecular characteristics of ESBL-PE fecal carriage from ICU patients at Sanglah Hospital, Denpasar, Bali.
Methods:
This cross-sectional retrospective study involved 30 stored-bacterial isolates of ESBL-PE from a rectal swab of ICU patients who had just been admitted to the ICU of Sanglah General Hospital from February to March 2019, consecutively. The identification and antimicrobial susceptibility test of the isolates were conducted using Vitek-2 Compact (bioMérieux®, Marcy-l'Etoile, France), while genotype identification was conducted using PCR for the detection of blaTEM, blaSHV, blaCTX-M genes.
Results:
Thirty bacterial isolates were identified as Escherichia coli (24/30) and Klebsiella spp. (6/30) and detected as ESBL-producing isolates by Vitek-2 Compact. All isolates were susceptible to piperacillin-tazobactam, meropenem, and amikacin. Twenty-two (73.3%) isolates harbored ESBLs blaTEM, blaSHV, blaCTX-M genes, either individually or in combination. Most of the isolates had the combination of ESBL genes. About 20% (6/30) of isolates had a combination of blaTEM and blaCTX-M, while 10% (3/30) of them possessed all of the three genes detected in this study. Only 3.3% (1/30) of the isolates had each combination of blaTEM and blaSHV as well as blaSHV and blaCTX-M. Meanwhile, 16.7% (5/30) of the isolates were detected to have each single gene of blaCTX-M or blaTEM, and only one isolate (3.3%) harbored blaSHV.
Conclusion:
High prevalence of blaTEM, blaSHV, and blaCTX-M ESBL genes harbored by fecal flora of patients who had just been admitted in ICU give rise to the risk for transmission among critically ill patients in ICU. Fecal screening of ESBL-PE besides infection control can be considered for those patients who have a risk factor of ESBL-PE colonization before they are being admitted to the ICU.
---
February 12, 2021
Ashraf I. Khasawneh, Nisreen Himsawi, Jumana Abu-Raideh, Muna Salameh, Niveen Abdullah, Rame Khasawneh, Tareq Saleh
---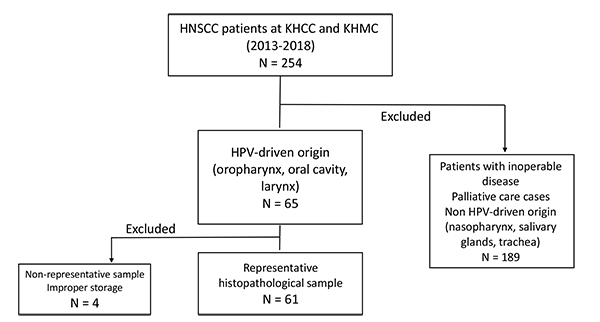 Background:
In addition to smoking and alcohol consumption, human papillomavirus (HPV) is a leading etiology for Head and Neck Squamous Cell Carcinoma (HNSCC). However, this causal association is still understudied in Middle Eastern populations.
Objective:
The aim of this study was to determine the prevalence of HPV-associated infection in the Jordanian HNSCC patients and the associated HPV genotypes.
Methods:
Formalin-Fixed Paraffin-Embedded (FFPE) squamous cell carcinoma samples of the head and neck were collected from two referral centers in Amman, Jordan to determine the existence of HPV DNA. After DNA extraction HPV infection and genotyping were identified using real-time PCR.
Results:
HPV DNA was detected in 19 out of 61 (31.1%) HNSCC samples. Despite screening for 28 different genotypes, HPV 16 was the only genotype identified in all examined samples. Most HPV-positive samples were obtained from the oropharynx (41.7%), oral cavity (37%), and larynx (18.2%). No significant association between HPV 16 genotype and age, sex, tobacco use, anatomical location, or tumor grade was noticed.
Conclusion:
This study reported a high association between HPV 16 genotype and HNSCC in Jordanian patients. These data should facilitate the implementation of appropriate HPV awareness campaigns, and activate selective prophylactic measures against HPV infection.
---
April 23, 2020